Trolley Scan(Pty) Ltd
Trolleyponder®/EcoTag®
Datasheet - OEM Receiver Module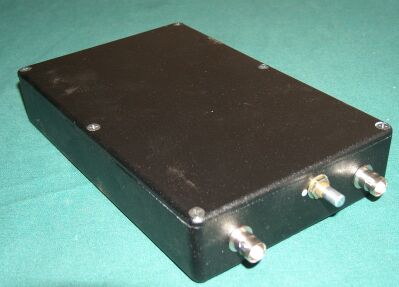 Specifications
This receiver module, with a power amplifier, antennas and power supply - form the complete backscatter receiver for EcochipTag transponders.

The receiver module contains the frequency synthesizer, modulator and pre-amplifier for the energising section of the reader; and the magnetic mixers, I & Q preamps, DSP processor and RS232 drivers for the receiver. The module is programmed to implement the Trolleyponder(RIST) protocol for multiple transponders.

The receiver input stage uses a magnetic mixer so as not to overload in the presence of the energising field while being able to detect the very weak transponder data signal at the same operating frequency.

The Enhanced sensitivity handles extremely low power versions of EcochipTag transponders - that is transponders that operate on less than 200uW.
Size
200mm by 118mm by35mm
Operating frequency
860 - 956MHz software selectable
Operating power
12 volts 200 ma
RF Power output
0.3dBm to 4dBm user adjustable
Receiver sensitivity
-64dBm (200 picoWatt)
Receiver dynamic range
54 dB
RF Connectors
BNC socket
Air protocol
Trolleyponder®(RIST)
Data output
RS232 9600 baud
Signal connector
DB 15 pin connector
+12 volts input (200ma)
Ground
RS232 input
Single/Continuous control
Enable/Neutral control
OK LED output
ERROR LED output
Pre-amp I+ output
Pre-amp Q+ Output
Multiple transponder environment
Yes
Part number
2000-0001 Normal
Manufacturer
Trolley Scan (Pty) Ltd
South Africa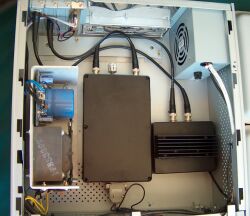 Example of connection of OEM modules
Trolley Scan (Pty) Ltd © / info@trolleyscan.com