Trolley Scan(Pty) Ltd
Trolleyponder®/EcoTag®
Datasheet - Solar Powered UHF RFID reader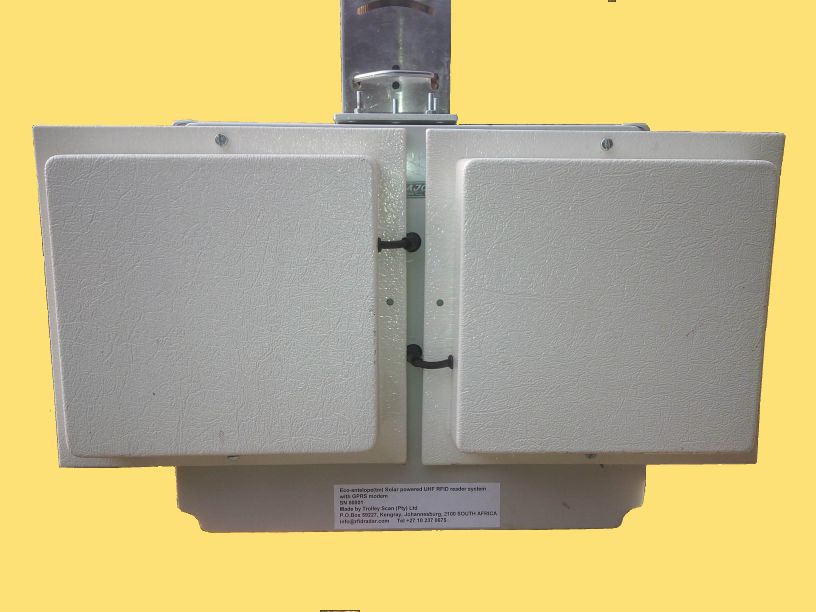 At the request of some farmers wanting to monitor their livestock in remote fields, Trolley Scan have developed a solar powered RFID reader that works in conjunction with the existing Eco-cattle(tm) eartags to provide a self contained RFID system with a 10 meter reading range. The system can be located in a distant location that does not have the conventional utilities such as power and communications.
Although solar power and batteries are well-known technologies, making a RFID reader that can work with these technologies has been a major challenge. A reader operating on solar power has to be able to handle serious power fluctuations when the solar batteries are discharged. The reader has to be able to sense the condition of the batteries, and when they hold sufficient energy, to restart the entire system and to re-establish communications with the remote computer systems. The reader has to send status messages in the dying and coming to life phases so that the remote computers are aware of the current status of readers.
Conventional battery technology and charging systems are not suitable as there might be long periods due to weather when there will not be sufficient solar energy to operate the system and the batteries might discharge to zero volts. To cater for these situations a special battery technology has to be used that can handle full discharge and even over-charge but still gives about a 20 year life.
The components of the reader had to be redesigned to handle lower operating voltage which is available from solar systems.
For communications we have made facilities to communicate either via cellphone networks OR point to point radio communications OR even via wire. The reader has to deal with the challenges of establishing communication, especially in the cellphone network situation where the network might be out of action.
Although this reader has been targeted at farmers both of cattle and wild game, it also has application in other situations where RFID systems are needed in remote situations where there are no power utilities.
The UHF reader works with the entire range of transponders that are made by Trolley Scan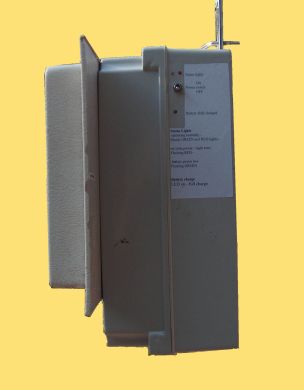 Specifications
Usage

Identifying cattle and wild game using RFID

Read range

Read range with Eco-cattle transponders(passive) for maximum 10 meters (ideal situation)

Operating frequency

915MHz

Technology

Self starting reader for solar operation, allowing complete shutdown and restart when not attended when solar power returns. Contains circuitry for managing the solar charging and for ensuring protection of the batteries.

Power consumption

12 volts at 2 amps from batteries when operating. Batteries recharged with solar power.

Recommended solar requirements

Dependant of weather conditions at site. Normal operation in sun uses 160 watt 18 volt solar panels

Recommended Battery

Lead crystal technology 12 volt 24AH - typically giving 20 year life

Polarisation

Linear - horizontal - 90 degree coverage of main beam at long range - 180 degree coverage for close range

Multiple transponder environment

Up to 800 in the field of view at a time

Air protocol

Trolleyponder® Compatible with all transponders manufactured by Trolley Scan (Pty) Ltd

Data output

Serial data at 9600 baud. Can be communicated to network via

Size

IP65 Enclosure - 350mm x 300mm x 130mm High quality flame retardant and self extinguishing ABS plastic Antennas bounted external to case

Weight

Part number

SOLAR1

Manufacturer

Trolley Scan (Pty) Ltd
South Africa
Response form to order Small system
Trolley Scan (Pty) Ltd © / info@trolleyscan.com